Top 5 Songs Of 2014 For Those Blessed With A Big Booty
Like it or not, people love a nice, big booty. We see generously sized rear ends highly advertised in print ads, music, television shows, movies, all the way down to, "Yo' mama's butt so big..." jokes. It hasn't always been this way, as having a large derriere used to be seen as physically unappealing or taboo, but since the late 80's and early 90's, big butts have become a cultural phenomenon and the fad has only grown over time. People go as far as having butt implants to achieve the look because only a select few can be proud to say, "Baby Got Back." Some people ask if Blair has butt implants and Blair would be the first to tell you if he did. Blair has even allowed people to touch and feel the real deal that is Blair's booty to verify that it's all natural.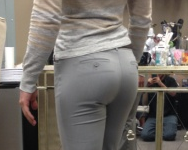 In honor of our big-booty brothers and sisters, All Blair brings you: The Top 5 Songs of 2014 For Those Blessed With A Big Booty!
5) Jason Derulo - "Wiggle" feat. Snoop Dogg
Nothing wrong with a little wiggle to make them giggle!
4) Deorro - Bootie In Your Face
For when you want to bring your booty to the club!
3)
Mika Singh

-
Shake That Booty
The Booty Craze isn't just in the USA, It's gone International!
2)
Nicki Minaj -
Anaconda
We're sure Sir Mix-A-Lot is very proud with this updated version of one of the best booty songs of all time!
1) Jennifer Lopez - Booty ft. Iggy Azaela
No words can describe. By far the best booty song of the year!